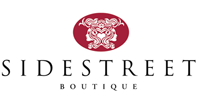 Family owned and operated since 1972, Sidestreet Boutique has had over 40 years of unsurpassed success. They have even been voted "Best Clothing Store" in South Lake Tahoe. This boutique is dedicated to the hottest trends in fashion—there is something for everyone. Sidestreet carries a wide array of designer clothing and accessories for men, women and children.
Their current brands and labels include: True Religion, UGG Australia, Eileen Fisher, Michael Kors, Alberto Makali, Sympli, Brighton, Isabella Fiore, Joes Jeans, Not Your Daughters Jeans, Hammitt, Jag, Vocal, Sky, Splendid, MZ Wallace, Virgin Saints & Angels, Gillian Julius, Liquid Metal, Tommy Bahama, 7 Diamonds and Jack O'Neill.
The selection isn't the only part of Sidestreet that has made it such a staple in the South Lake Tahoe community. With its family roots, the atmosphere is one of a kind and the customer service is magnificent. Employees have hands-on knowledge of all products offered by the boutique, so questions about fit, color and style will be answered professionally. What's more? If you're waiting for your friend to try on clothes, why not wait with a coffee in hand? Sidestreet Café is located inside the boutique and serves espresso, drinks, pastries and lunch daily. This shop even provides tuxedo rental for any special occasion—it's a one-stop shop!
See more in: Clothing